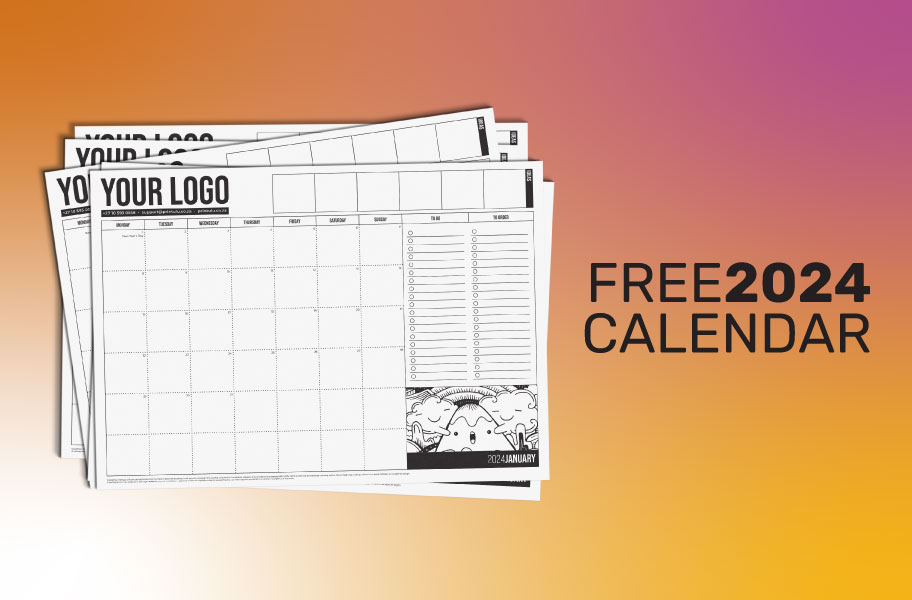 Hey there, fellow creatives! Are you ready to kickstart your creative journey for 2024? Well, look no further than the trusty companion that keeps us organized and inspired—the 2024 calendar! In this blog post, we'll explore some inspiring ways creatives like us can use calendars in our work and unleash our full potential. So, let's dive right in!
2024 Calendar as a Visual Inspiration: Black and White Coloring in Fun
Who said calendars had to be boring? Say goodbye to monotonous designs and hello to black and white colouring in fun! Black and white calendars are the perfect canvas for our creative souls. Whether you're a fan of intricate patterns or prefer minimalistic designs, the possibilities are endless. Grab your favourite colouring tools and let your imagination run wild. Add a splash of colour here and there, experiment with different shades, and watch your calendar come to life as a unique piece of art.
Planning and Tracking Projects: To-Do Items and To-Order Items Once Client Has Approved
As creatives, we always have multiple projects on our plate, and keeping track of deadlines and to-do items can be a daunting task. But fear not, for the 2024 calendar is here to save the day! Use it as your trusty project planning companion. Jot down design milestones, set deadlines, and mark important dates. It's a visual representation of your progress and a gentle reminder of upcoming tasks.
And once your client gives the green light, the calendar becomes even more valuable. Use it to streamline the ordering process, ensuring that you have all the materials you need. No more scrambling at the last minute! Stay organized, stay on track, and deliver exceptional work that impresses both you and your clients.
Idea Scamps: Draw Your Ideas Quickly While Your Client Is Chatting to You on the Phone
Ever had a brilliant idea strike you while on a call with a client? We've all been there! That's where the power of idea scamps comes in. Grab your trusty 2024 calendar and start doodling away. Quickly sketch your ideas, capture the essence of the conversation, and unleash your creativity in real time. Not only does it help you remember those flashes of inspiration, but it also adds a personal touch to your client's communication. Show them your creative process and involve them in the journey. Who knows, they might be just as excited as you are about your next masterpiece!
Cost-Effectiveness of the 2024 Calendar Black Plate Changes
Now, let's talk about something that makes these calendars even more attractive—cost-effectiveness. We all appreciate saving a few bucks, right? Well, black plate changes in calendar design are here to do just that. By using only black plate changes, you can create stunning designs without breaking the bank. It's a win-win situation—a budget-friendly approach that doesn't compromise on creativity. So, let your imagination soar while keeping your wallet happy.
In conclusion, dear creatives, the 2024 calendar is more than just a tool for organising dates. It's a source of inspiration, a project management ally, and a means to capture your fleeting ideas. Embrace the versatility of black-and-white colouring, stay on top of your tasks, and let your creativity flow. And don't forget, these calendars are not only amazing but also cost-effective with their black plate changes. So, go ahead, grab your favourite calendar, and make 2024 your most creative year yet!
Remember, the possibilities are endless, and the only limit is your imagination. Happy creating, and here's to an inspiring and productive 2024!

We've created a basic 2024 desk calendar for you, all you have to do is add your own doodles 🙂