Deskpad calendar sizes (in cm)
A3 (29.7cm x 42cm)
A2 (42cm x 59.4cm)
Deskpad calendars are available from Printulu in A3 (29.7cm x 42cm) and in A2 (42cm x 59.4cm) on 80gsm bond with different colour options.
Calendars are powerful branding tools to keep your brand on top of your clients' minds year round. The end of the year is a great time to gift these business and promotional items to your clients and staff.
Here are a few details to remember when creating your 2021 monthly calendar!
1. High resolution images
Ensure that your logo, background images and icons are high resolution files. A high resolution image ensures that your brand will appear at its best once the calendar is printed.
2. Include important holidays
Including local and international public holidays and events adds value to your calendar. Adding local school holidays will enhance the value to parents.
Also ensure you have the right year! 🙂
3. Know which calendar type you need
We offer 3 types of calendars:
These are great for hanging in an office or home.
We offer the following sizes: A1 (59.4 x 84.1 cm),  A2 (42×59.4 cm) and A3 (29.7 x 42 cm).
This is ideal as a day, week or month planner. They are also a great addition to your desk for taking notes and seeing your schedule at a glance.
We offer the following sizes: A2 (42×59.4 cm) A3 (29.7 x 42 cm).
These are also an ideal addition to your desk to give you a quick view of the month ahead.
We offer the following sizes: A4 (21.0 x 29.7 cm) and A5 (14.8 x 21.0 cm).
Wiro desk calendars are the perfect desk accessory to keep around the office or hand out to your suppliers and customers. We offer the following sizes: A5 Portrait (21 x 14.8cm), A5 Landscape (14.8 x 21cm), DL (9.9 x 21cm), 21 x 21cm.
Wiro Wall Calendars are great for hanging in any office or home. They are easy to pin up on any wall and the standard sizes guarantee that your brand will stand out on any wall.
We offer the following sizes: A4 Portrait (21 x 29.7cm), A3 Portrait (29.7 x 42cm), A2 Portrait (42 x 59.4cm).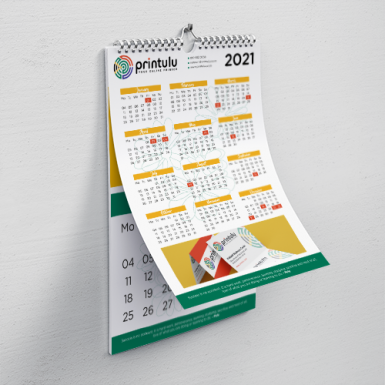 4. Create provision for notes
This is important for Deskpad Calendars. Adding quick notes under a specific date, or additional notes on the side, is useful for staff and clients.
5. Keep it simple
Do not over-clutter your calendar. Your company logo and slogan will do the branding job for you. You can consider a background image, but ensure it does not clash with, or obscure your logo and slogan. Also try not to use too many different colors, fonts and graphics. A simple rule of thumb is Marissa Mayer's 5 point rule:
Back in her days at Google, Mayer would tell designers to count a point for every different font, font size, and color on a page. If a page goes above five points, it's time to redesign.
6. Include important contact details
Email address, contact number and website URL are important. Ensure all details are relevant to the type of query you can expect from recipients of the calendars. The phone number and email should be monitored and ensure the URL works throughout the year.
7. Other inspirations
You can be creative and include inspirational quotes.
Give it a yearbook feel if it's for staff. You can also include your product/service offering where relevant.
However, don't forget to focus on adding value while keeping it simple.
Conclusion
A branded calendar is a great tool for maintaining top of mind awareness and adding value to staff and customers throughout the year. Keep it simple, include important details and use high resolution images. We offer 5 types at Printulu; Wall Calendars, Deskpads, Wiro Desk Calendars, Wiro Wall Calendars and Tent Calendars. Feel free to place an order for free delivery on our website.
You might also like…