We have exciting news! You showed us what you wanted, and we heard you loud and clear.
It became obvious to us that you love our services and the ease at which you can order everything you need right from your couch at home. But the one thing that everyone still wanted was for us to expand on our product portfolio.
Printulu is growing fast, and we want to make sure that our wonderful clients are enjoying the full impact of our growth. That's why we are very happy to announce that with your continuous support and lots of late nights from our side, we're adding even more products to our website.
1. Branded Gazebos
Branded gazebos give you the ability to target your audience through the events that you attend with your branding materials. Because branded gazebos stand out above head level, they are noticeable, and this means that your brand gets noticed wherever you are. Sports days, corporate events, trade shows, conferences, meetings, awards ceremonies, and exhibitions all provide productive places to set up your advertising gazebos and to make sure that your brand gets noticed by the people who matter most.
2. Telescopic Banners
Telescopic Banners are also commonly known as feather banners and are printed in full colour. These outdoor banners is the perfect way to attract the right kind of attention. Custom printed Telescopic Banners are big and bold and make a statement for your business or event. They are suitable for outdoor use in windy conditions.
3. Free Standing Units
Why show off your state-of the art products in a flimsy, unattractive shelf? Printulu's free standing unit is a product display stand that can be designed to show off your brand the way it deserves. Our display stand is of premium quality. It is lightweight and made out of outstanding B-Flute material.
This means that not only will your products be shown off to their best advantage in our display stand, but they will also be safe and secure on a strong surface. A display stand can cost you a fortune, but at Printulu we offer a cost effective, reusable display stand that dismantle easily.
4. Bookmarks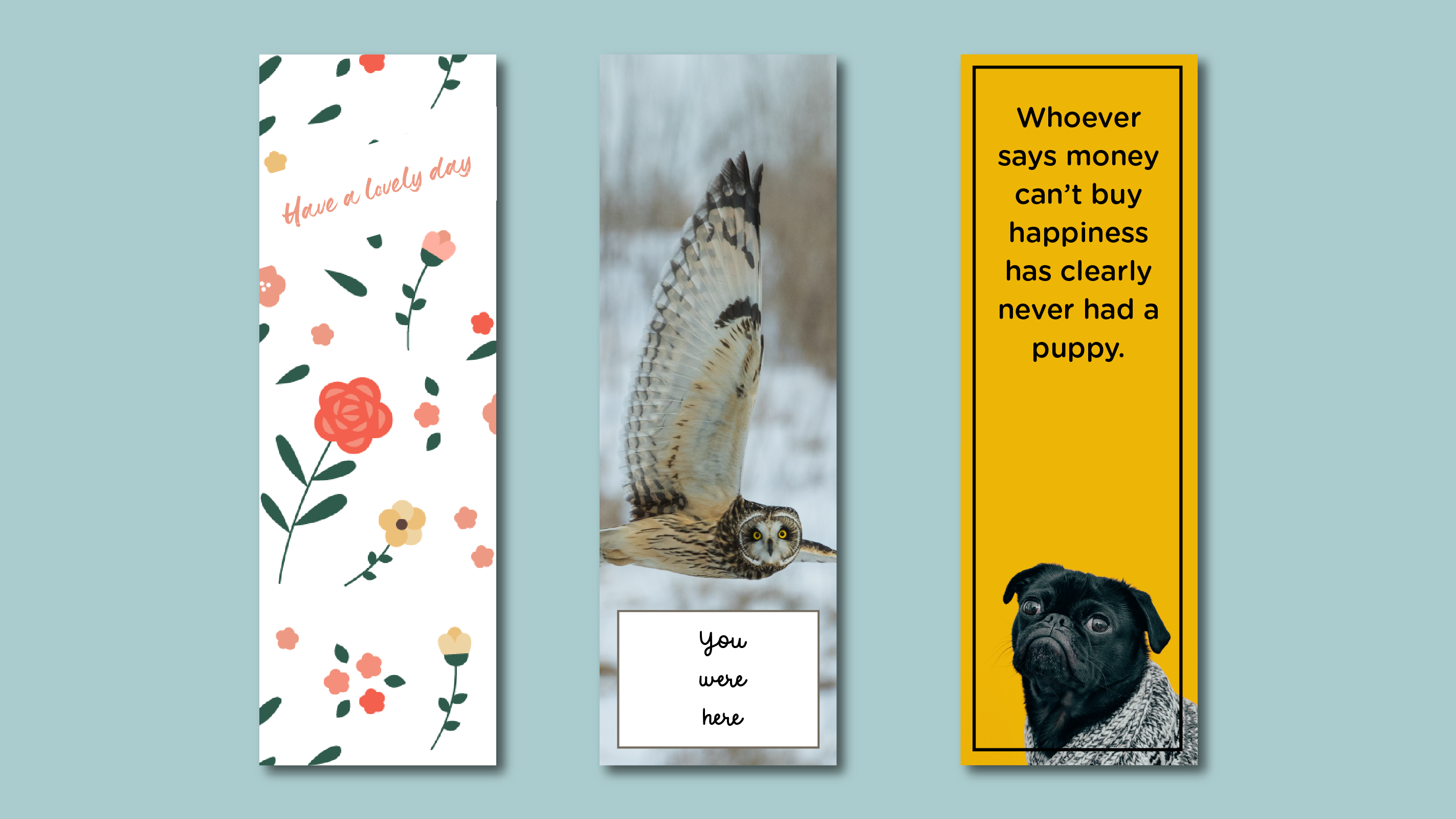 Bookmarks are one of the cleverest ways to keep your brand top of mind, even when your customers are winding down for the day. Bookmarks are always in front of your readers. They are reliable, sturdy and handy. What better way to promote a positive image for your business than reminding your customers of your business when they are relaxed and at their happiest?
5. Stacking Cubes
Stacking cubes are the perfect display advertising tool. They are ideally used for POS (Point of Sale) advertising. The cubes have 5 visible sides each, making them an effective display advertising tool if you have too much information for your standard flyer or banner ad. Display advertising material doesn't need to physically hold your product to make an attractive cardboard display.
In the absence of a physical product, or where the product is not suitable for a retail shelf, point of sale becomes even more important than ever to get your brand and sales message noticed. Stacking cubes are seen everywhere from car showrooms to cinemas, health clubs to hospitals, pubs and restaurants to libraries. Stacking cubes are eye-catching and create a fun space through display advertising. With our B-Flute material, these cubes are sturdy, rigid and perfect for printing colourful designs.
6. Counter Units
Display your products effectively with high quality, beautifully finished counter display units from Printulu. Even when shoppers have almost reached the end of their shopping journey, there is still a chance to drive impulse purchase at the till. A counter unit display stands out, provides a clear overview and attracts attention. Our Counter Display Units will help you deliver a brand presence that goes a long way. Printulu offers you counter unit options to suit your wishes, these counter display units will have customers coming back for more!
7. Elliptical Standees
Our elliptical stands are simple, easy to use, light and economical. These stands are ideal for advertising indoors and can be easily placed at retail centres and conventions. The elliptical shape ensures that your brand message can be seen from all angles – no ad space is wasted! This standee is a free-standing, double-sided elliptical advertising element. These stands increase brand/product visibility at the point of sale and provide an innovative alternative to one-dimensional advertising.
Printulu's elliptical stands are a great alternative to conventional banner stands, without compromising the 'pack up and go' element. They are easy to set up, take down, store and transport. Our elliptical stands can be located and relocated any place in order to catch your customer's eye. They are designed to increase the visibility of your products and are ideal for optimizing precious ad space anywhere.
8. Selfie Frames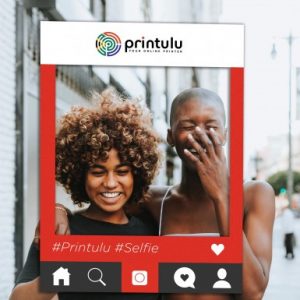 It's no secret that one of the best ways to promote your business is through your happy clients. It's a technology-driven era, and selfies and social media is not going out of style any time soon. Promote your brand at events and parties with fun selfie frames from Printulu. Whether your selfie frames are used for corporate events, birthdays, weddings, parties, or even baby showers – they are the perfect accessory for your themed event!
They naturally encourage positive interaction from people. This will inadvertently showcase your event for you, and up your exposure on social media. It even comes with the added bonus of positive connotations to your brand!
 9. Paper Bags
Paper bags are the perfect tool to promote your products and make it easy package freebies during launches or events for your clients. Printulu offers you the flexibility to design your own paper bag and quality that will ensure positive brand exposure. The quality of the paper bag will ensure that it lasts long while the design will capture your audience's attention. Promoting your business and making a statement with clients can be achieved with branded paper bags by showcasing your logos and brand identity in the design. We have matte and gloss finishes for you to choose from and the different size gives you the freedom to choose just what will be perfect for your needs.
10. Snapper Frames
A snapper frame (also known as snap, snappa, clipper, clippa or clip frames) is ideally used for displaying posters and brochures. The snapper frame is designed to be either wall mounted or can also be suspended as a hanging snapper frame. Choose from our standard frame sizes (A3 to A0). Our snapper frame clips open from the front, which allows you to change your posters easily and efficiently without removing the display frame from the wall.
A snapper frame provides a fantastic, cost effective way of framing any type of poster. From labour law posters, company policies, to advertisements & notices. Once attached to a wall, a snapper frame can easily be opened whenever the need arises and its contents can easily be changed in minutes. The frame is robust and lightweight, which makes it ideal for displaying your poster without the risk of breakages.
11. A-Frames
Ideal for outdoor and indoor displays, Printulu A-frames are portable, lightweight and easy to use. You can maximise your indoor and outdoor marketing opportunities with A-frame signs from Printulu! They are both sturdy and affordable and the folding frame easily collapses back into a convenient storage bag between uses, making them excellent for directional signage, promotions and events. Create designs that can easily get the attention of your target market. Be sure to put these signs in strategic spots for your potential customers to see.
12. Folded Cards
The actual value of business cards is often underestimated – yet these small format cards are your best opportunity to make people remember you and your business. Printulu offers you a variety of high-quality business cards to ensure you can leave the best impression. The best part: you get unbeatable prices and free delivery to your address anywhere in South Africa.
13. Wallpaper
Print your wallpapers with Printulu and use your images or designs to create a true and vibrant environment. A custom wallpaper is an easy and cost-effective way to personalise your space with real visual value. And there is no better supplier than Printulu, we offer a wide selection of size options and finishes to suit your needs.
14. Contravisions

Contravisions are a big deal. Literally. This product is our latest addition to our large-format printing services. This one-way vision material has small holes that allow visibility in only one direction, through the media. In other words, you'll be able to people watch from inside the building, without fear of them spotting you from outside. Our contravisions allow for approximately 85% visibility from the inside and a 100% block off from the outside. 
They are the perfect printing product for advertising and branding. They're also fantastic for simply decorating windows or glass doors whilst providing you with maximum privacy. At Printulu, we offer 120 micron and 140 micron contravision material. This simply means that the 140 micron contravision is thicker than the 120 micron contravision. So, you can order depending on what would be ideal to suit your needs.
15. Tickets For Any Event
Our sturdy event tickets are available in a variety of paper grammages, with the option of variable data printing. This means each of your event tickets can be customised. This includes elements such as text, barcodes, graphics or images. Our event tickets are most popularly used for medium to large scale events, or any event that requires access permission to be given to your clients.
16. Table Standees
Many of our clients are restaurant or cafe owners. We thought we had it down – we have printing services for menus, table cloths and placemats. What more could you need? But then we realised we were missing something major. We've finally added table standees to our  ever-growing list of products.
Advertising doesn't always mean large scale printing assets. Sometimes you can achieve the same results with a lower cost and by using the minimum available space. Remember – table standees are perfect for any counter or table space you may have available, and they are definitely not limited to restaurateurs.
17. Doorhangers
"Do Not Disturb" signs hanging off of a hotel door knob. This is probably the first thing that comes to mind when you think about doorhangers, right? But, we've discovered that they are printing assests that can be great marketing tools too.
Think about it – they work very well in hotels. When you put it on the door handle, most of the time you will not be disturbed. Why? Because they are extremely visible and great tools for conveying simple but important messages.
No wonder they are becoming more and more popular amongst direct marketers and advertisers. Add to this the fact that doorhangers are cost effective, different, and will increase your marketing reach… what's not to love?
18. Entry Form Boxes
Entry form boxes (also known as ballot boxes) are used to help introduce a company or organisation and inform about products and services to a target audience. Our customised ballot boxes create an eye-catching display with a professional touch. Although we refer to them as ballot boxes or entry form boxes, they can be used for multiple purposes and are ideal for getting your brand to be top-of-mind.
They are perfect for the following uses: portable voting station, survey or questionnaire stand, competition entry stands, customer feedback stands, ballot boxes, lead generation boxes, fund-raising boxes, competition entry form boxes, suggestion boxes and more! Printulu offers you a unique range of self-contained, free-standing ballot boxes.You can choose from a range of finished formats and quantities. If you need a professional touch, feel free to ask about our design services.
19. Box Frames
Create your own gallery at home and enhance your prints with Printulu's eye-catching box frame. Instead of having glass that covers your print which causes unwanted reflections, we allow the soft texture of the print to remain uncovered. Your photo or design is printed on strong E-Flute material, then folded. Our trendy box frame will lift your print a few centimeters off the wall, making it stand out from the rest.
The E-Flute material we use for our box frame is strong, built for endurance and ideal for printing vibrant photos or designs. The box frame is the perfect affordable alternative to canvas printing, which can amount to a hefty sum. The effect of the box frame is a classic and clean finish, which is suitable for beautiful interior spaces, adding a chic and elegant feel to the space. Use your box frame for portrait and landscape images alike. The box frame is light and easy to move and hang up on your desired space. Our Printulu box frame comes in a variety of sizes ranging from A4 to A0.
But wait, there's more!
We're not about to add 5 new products to our portfolio and leave it at that. No way, Jose. As we mentioned previously, we want our Printulu customers to experience the full effect of your ongoing support.
We'll be adding even more products soon, so keep your eyes peeled. In the mean time, feel free to send us an email at support@printulu.co.za or drop us a comment down below. We would love to know what you think of our latest products, and we're always open to new suggestions for products that we can add that will make your time with us that much better.
Related Articles: