So here you are. You've just ordered from this online company and you have no idea if they're actually as legit as they say they are. Sure, the online reviews seem great, but those can be faked right? You're sitting here, at your office, and you know that every second that ticks by, is a second that you could be wasting on waiting for a product that never comes. What if they overcharged you for the printing services? What if it arrives damaged? 
Even worse, you're a re-seller and you're waiting for the phone to ring and your client to scream at you over the phone that the products are terrible. You sweat nervously. This was a mistake. Trusting Printulu was a mistake.
You Get What You Pay For
I know how much stress goes into ordering something online from a company you've never tried before. Even when you've used them more than once, there's always the chance that this will be the time that everything goes wrong. It's even worse when your business depends on the success of the order.
Having peace of mind when placing an order online is like having your cake and eating it too. It just doesn't happen. But we've made the impossible possible. Here's our brand new feature!
Introducing Our Custom Paper Weight Calculator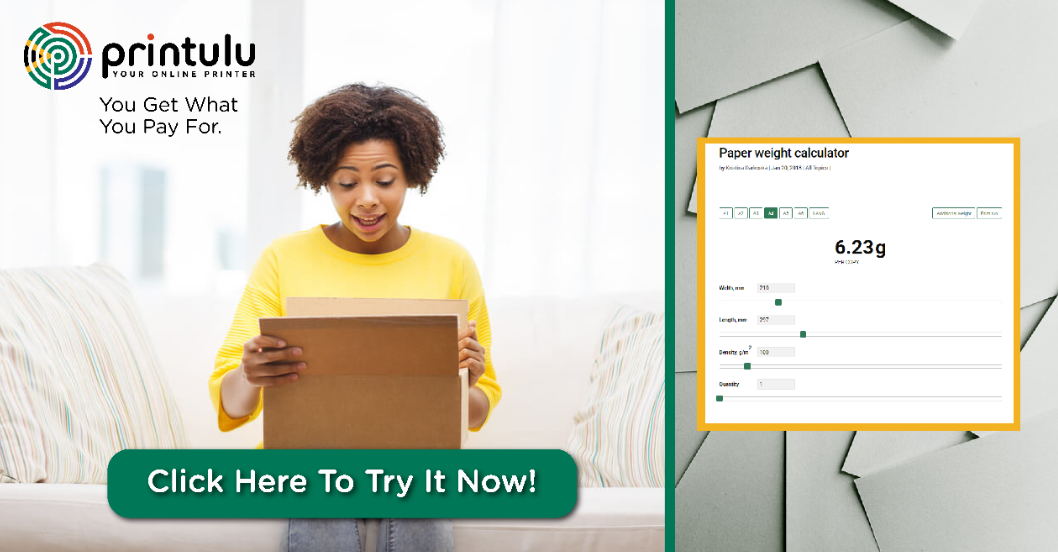 The last thing we want for our clients is to have an awesome experience with us all the way through handling the order, and then on the last minute… BAM. The package arrives and you have to manually count how many copies there are. Ain't nobody got time for that!
But we also want you to have absolute peace of mind when you get your ordered items. So here's the new deal.
How To Use It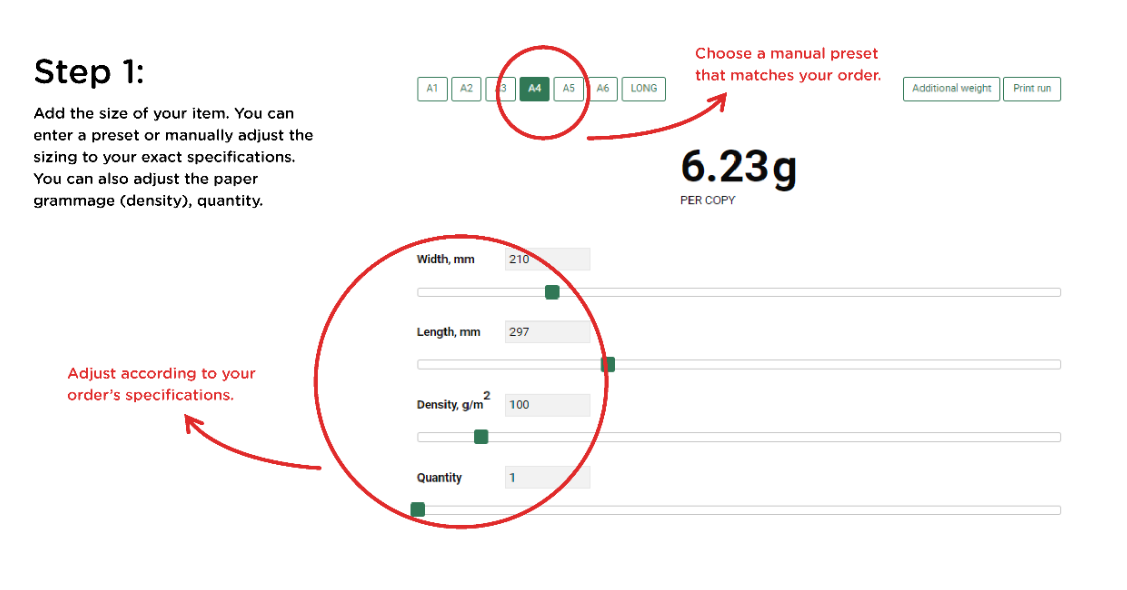 Firstly, you need to open the paper weight calculator. Click here to open it. If your item that you ordered is one of the preset sizes (A1, A2, A3, A4, A5 or A6), click on the preset that matches your order specifications.  You will even be able to set the paper grammage that you ordered. If your order doesn't match one of the preset sizes, you can manually adjust the width and length on the sliders provided.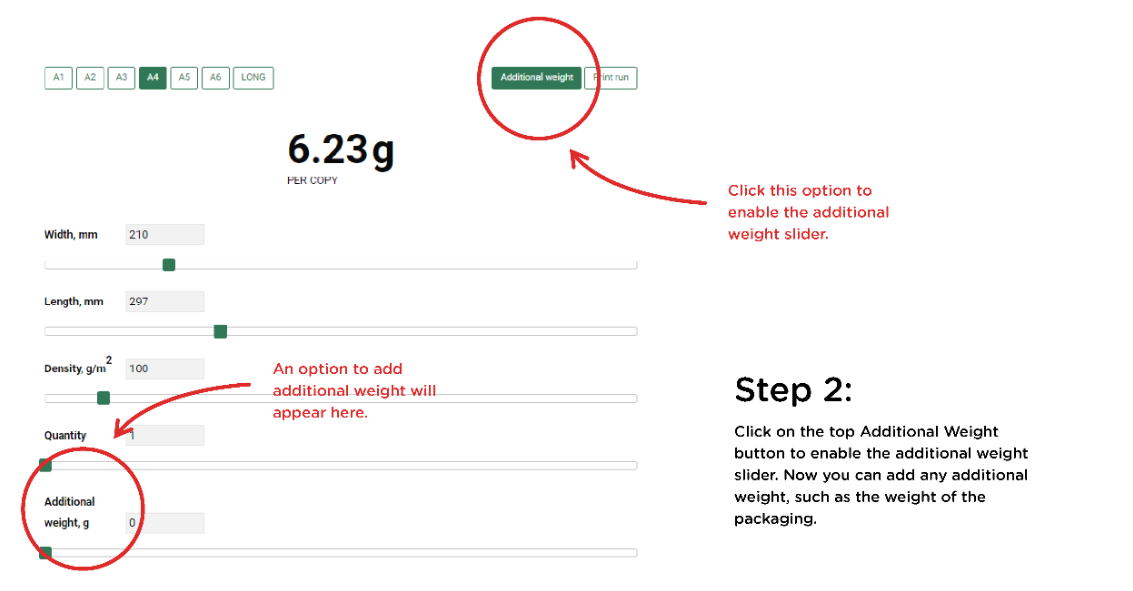 Secondly, you will notice a button that says "Additional Weight" at the top right corner of the page. Click this button if you wish to calculate the total weight of your product including the packaging it came in. You can also unclick this button if you don't want to add it to the calculation.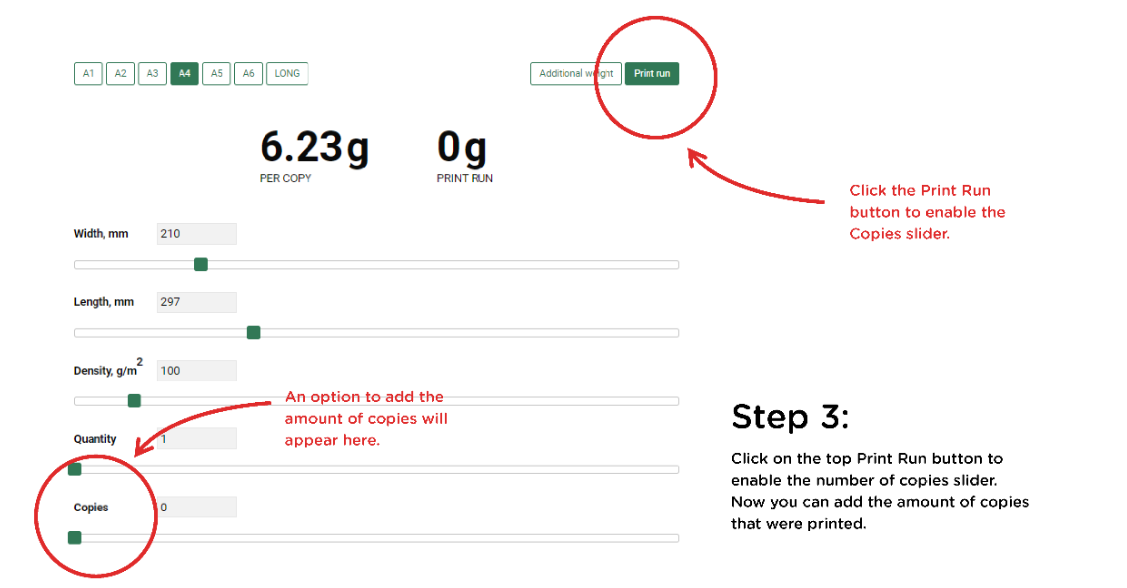 Thirdly, you will notice a "Print Run" button next to the Additional Weight button. Click this button if you want to turn on the Copies slider. You can then enter the amount of copies that were printed. This button can also be unclicked if you don't want to add this to the calculation.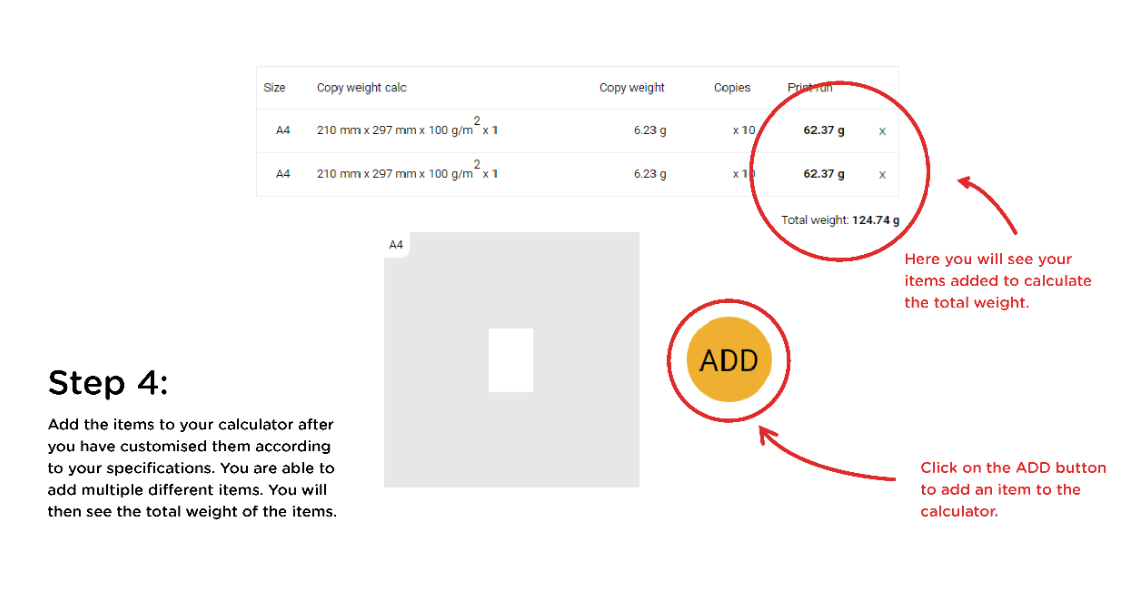 Lastly, scroll down to take a look at the calculation. You can click "ADD" to add the items you specified above to the calculation. And yes, you can add and delete multiple items to the calculator. You will notice a Total Weight that has been calculated. Voila!
Click here to use our new paper weight calculator. It's really easy to use and is completely accurate.