Research defines marketing as communicating a message to a chosen audience. However, this is done by using a piece of content on a particular channel. You are probably using more than one channel. Your strategy is likely a mix of online and offline, since your audience exists on both channels. As long as your message is communicated over more than one channel, your marketing strategy will be more effective. As an online printer, we are the epitome of the integration of print and digital marketing. That's why we've decided to give some guidance on integrating print and online marketing.
Why integrate?
The quick answer is your audience will find out about or engage with your brand in more than one medium. All of these encounters create an overall perception of your brand. If you can control how you appear in the different mediums, you will have a better influence on your overall brand perception. Also, depending on your product/service, one marketing channel may cater to users at a particular stage of their buying cycle, but one channel cannot cater to all stages.
Incorporating a variety of channels can help you reach your audience at the right stage in the buying cycle and encourage the desired action.
Online marketing allows you to reach a large audience and make agile improvements to existing campaigns. It also allows your audience to perform the desired action, such as signing up or purchasing, almost instantly. This includes optimising your website for search engines.
Print ads, flyers, postcards, direct mail, brochures, and more, create a tangible and personal charm. Print, with the right copy, can also create the stimulus that will drive someone to search for you online. This ultimately leads to your products and services being purchased.
A well-integrated marketing plan and campaign can incorporate all the advantages and maximise the impact of all your chosen channels.
For example, when doing market research I have found that a recent trend is event organisers using well-crafted events with the right props and features to encourage Instagram posts from the attendees. I recently attended a Jameson event where there were enough photo opportunities that a once a week poster like myself had enough great photos to last me a year of posting on Instagram.
An effective marketing campaign, regardless of industry, company size, product or service, has to use a mix of channels to reach it's intended audience.
Quick stats:
Customers who received a printed catalogue spent more meaningful time on the company's website and purchased 28% more on average than customers who did not receive a catalogue. And that held for every age category. (Source Marketingprofs)
76% of internet users say they have been directly influenced to buy a product or service by printed direct mail (Source: Choose Print)
What are the challenges?
It's not easy but it is not complicated either. The main challenge is integrating this into your business plans and budget – how much to spend and which channels to spend it on. To determine this you need to experiment, test, measure and optimise.
This brings us on to the next challenge, tracking the results from your print marketing. This is possible but can cost more in time and money, I discussed this briefly in How can I minimise my printing costs?.
There are 3 main tools you can use:
Unique URLs – unique subdomains (campaign.companyname.com) and vanity URLs (companyname.com/campaign) let you place an easy to type address on any collateral and allow you to attribute any traffic using that URL to that collateral. QR codes are essentially a mobile optimised version of the unique URL. Speak to your website manager to set these up.
Call tracking – similar to unique URLs, you can use a phone number that is unique to each promotional item, attribute all phone calls made to that number to that URL. Visit Call Tracking to find out more.
Coupon codes – making these unique to a particular URL also allow you to attribute purchases made to that particular piece of collateral. Speak to your sales manager to set these up.
How to integrate print and online marketing?
Consistent Branding and Messaging
If you have a brand identity then you have taken the biggest step to getting consistent brand messaging. If not and you wish to communicate on multiple channels, then get a brand identity made or add it to the wish list for the year. The brand identity will allow you to meet the four C's of integrated marketing:
Coherence – everything has a clear connection
Consistency – your messages support each other
Continuity – cross-platform consistency
Complementary – it all works towards the same goal
Need to design a brand identity and you don't have an in-house graphic designer? Have a look at 99 Designs.
Related – 4 ways to save money on graphic design.
Use QR codes, subdomains or personalised URLs
Your target audience probably has a connected mobile device. QR codes, subdomains or vanity URLs allows them to scan or type and take the desired action immediately. The added bonus of getting them to your website allows the remarketing to kick in, which brings us to the next point.
Use remarketing
If you have a Facebook or AdWords advertising account then you can use the provided tracking pixel, installed on your website, to target people who have visited your website. Takealot.com does this very well. They don't just show you a banner ad for Takelot, they show you a banner ad of products similar to the one you just viewed. This way they promote and sell products to you with targeted accuracy. Need a bit more information on setting up and running remarketing? Have a look at this infographic.
Incorporate custom landing pages
Sending someone to the home page of your website by adding your URL to your flyer, postcard or banner is a good idea. Sending them to a specific page on your website relevant to the messaging in your ad is a better idea.
Custom landing pages address the exact reason why a person visited your website from the get-go.
Need help setting up a landing page? Try Leadpages.
Use a call to action (CTAs)
Everything you print or publish online is created to encourage a particular action. This could be 'follow', 'purchase', 'visit', 'like', 'signup', 'attend' and many others.
CTAs tell people what they need to do to proceed if the message resonates with them. Make sure you don't publish a design without a clear CTA.
Tip – You may use a coupon code to drive purchases. Incorporate urgency in these coupon codes, such as a clear expiry date, to encourage immediate action.  Without the expiry date, people may decide to do it later and forget to do it altogether.
Combine Direct Mail and Email
When running a direct mail campaign, let the recipient know that they will be receiving something in the post and follow that up with another email after the package has been delivered. Use the email to reinforce the message and to make it easier to perform the desired action. This is a good practice to keep the recipients informed.
Social Media
It's a missed opportunity to not include your social media handle on your printed collateral. Getting someone to like or follow you on social media gives you another opportunity to communicate something of value.
Remember – don't just include the icon, it means the person has to guess the handle which never works. Most platforms provide a custom URL like Facebook.com/Companyname.
Also, only drive them to pages where you post frequently, people expect to see something there when they visit.
Print eBook or Checklists
Do you have a popular ebook, blog post, checklist or infographic? Why not print these as booklets and distribute at sales meetings, events and/or at the point of sale. You can also print your infographic as a poster to hang in the office or to hand out to clients, suppliers and partners.
Take Advantage of Augmented Reality (AR) Software
AR combines print and mobile phone usage and enhances the experience of the printed material. In a recent post, Print and augmented reality – 5 things worth knowing, I discuss the what, why, how, when and the challenges thereof with examples.
Here is another example: Canon print and AR campaign.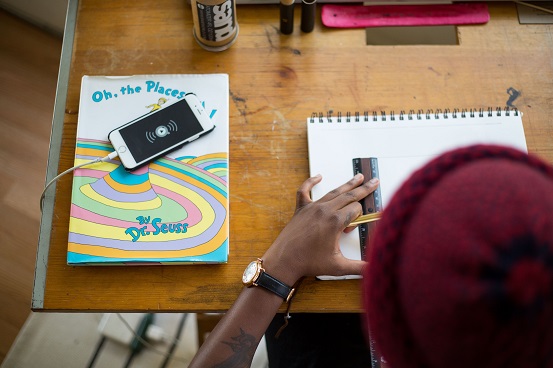 Track, measure, report, experiment and improve
Track, measure, report, experiment and improve
Integration is optimised by measuring the impact that each channel has and making the necessary adjustments to improve the results. If you've got your URLs, landing pages, call tracking and coupon codes in place, you are a step closer to creating a dashboard that shows you what you need. This includes the impact of each source, medium and campaign and the relationship between them.
This will help you decide where to spend your money and what stage in the customer journey the channel contributes to. It will also show you what message you should have, call to action and how to further improve your targeting.
Some key measures to look at are:
Keyword data from Analytics – what keywords do people associate with your brand? You can find this information in analytics and use it to fine-tune your messaging.
Top converting landing pages – is there something that you are doing on those pages that can be used in the layout of your print collateral? Or vice-versa? Test, measure and note the results.
Bestsellers – analyse the most popular selling products that can be used to attract more customers through your print advertising and collateral.
Trends – use your periods/seasons when you get more sales to plan campaigns for awareness (just before the season) and conversion (during the season).
Tracking, measuring and reporting was brought to us by scientists as a method to understand what works. This is so that the results can be replicated, tweaked and improved going forward. Use it.
Checklist – integrating print and online marketing
Two Examples
Air BnB which is known as the online service that helps locals rent their homes to tourists, making travel accommodation more affordable, has released a travel magazine called Airbnbmag.
The magazine's purpose is to "inspire you to unleash your inner explorer. Indulge in sweet serenity. Find yourself a little closer to the world around you."
Dairy Queen Postcards
Dairy Queen used a postcard campaign to fill in informational gaps about clients.
The postcard wished the client a happy birthday which pointed them to a personalised URL and landing page. Once she was on the page she could download some birthday coupons by inserting her email address and other details. This provides Dairy Queen with the most up to date email address and other details for their client database.
Resources:
How Small Businesses Can Integrate Print and Online Marketing for Increased ROI
How to Get Started With Affiliate Marketing – A Beginner's Guide
Print Drives Both Online and Offline Sales (PDF)
Why You Should Integrate Online Marketing and Direct Mail
How To Combine Print And Digital Marketing Campaigns
How to Integrate Your Offline and Online Marketing Strategies
Integrate Your Offline & Online Marketing to Boost Leads & Sales
How to Integrate Traditional & Digital Marketing
Related: