When you've been in business long enough, questions are bound to pop up.
We've been in the business now for 4 years, and we have amassed almost 15 000 clients. And with that, we've also gotten a TON of questions.
I have been with Printulu for almost 2 years, and I have been designing and improving my skills for over 8 years. If you follow us on Facebook (P.S. – you should, we have awesome free tutorials on our page. Want to know how to design a business card in under 10 minutes?) you know that we have been answering your frequently asked questions every day in quick live videos. 
However, I know that everyone is under a tight time crunch lately, working with limited capacity and trying to get their businesses up and running again with the easing of the lockdown restrictions. You don't necessarily have time to watch our videos daily. So I thought I'd compile our FAQs in a few easy blog posts for you to go through in your own time. 
FYI – Here's how the printing industry can help your restaurant business open back up.
Our online ordering system is as simple and user-friendly as it gets. Let's start with the basics of uploading your artwork to your order. This is where most people get stuck, because if you're not a designer, there can be some complications that pop up and give you a headache. Don't worry – I'll answer all these questions here and include the video I did answering them as well.
1. When and how do I have to upload my designs/artwork?
You can upload your artwork on your order confirmation page once you have completed your payment (the last step of your checkout). If you want to upload your artwork at a later point in time, you can do that in the "my orders" section in your Dashboard. It's really important to note though that your order is only completed once your artwork/ design is uploaded (along with a valid Proof of Payment).

2. How do I upload a file that has a front and a back page?
The best way to upload files that include more than one page (or a double sided print like a 2-sided business card) is to upload it as one file with separate single pages. Make sure you only upload one artwork per line item ordered. The same rule applies for multiple page booklets. 

3. Aargh! I found a mistake in my design/artwork after successfully uploading it! Can I change it?
Don't stress it. If you spot a mistake, the most important thing is to catch it and let us know before 2pm on that day. This is because we send our newly received orders (only if successfully completed) into production once a day at 14:00 (2pm) sharp. You can upload a new file under the "My Orders" section of the website in your Dashboard.  If you upload your new/corrected artwork before that deadline, we are happy to consider it. Corrections after that deadline can unfortunately not be considered, because the artwork has most likely already gone into production. Notice a mistake on your artwork? Call us ASAP on 010 593 0558 or email us at support@printulu.co.za.
4. What do I do if I have problems uploading my art work/design?
If you encounter any problems while uploading your files, please give us a call or send us an e-mail containing your artwork and order number.
5. Are there specific requirements for my artwork? Which types of file can I upload?
The first and best choice for any product is for you to upload a print-ready PDF file. We do also allow Jpg, Png, Tiff and regular PDF files. But to avoid any possible errors and delays with your artwork, the best is always to follow our print-ready guidelines. Check out our help center for an in-depth guide using various design software. We also have a downloadable infographic that you can refer back to whenever you need. Click here to download it for free. Here's a quick tutorial I did recently using Adobe Illustrator as well. If you're using free online design software like Canva, check out my tutorial here.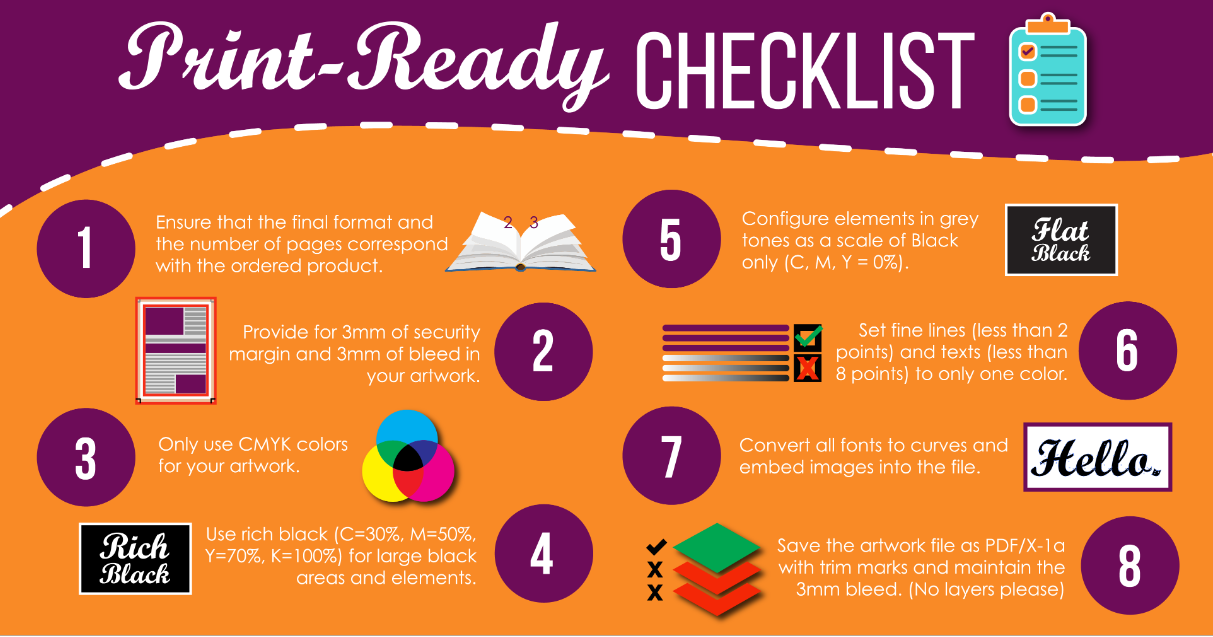 6. Can I divide the minimum order quantity between different products?
The short answer? No. Let me explain. The minimum quantities displayed in the configurator are only for one product and one version of the artwork. For example, if you order 500 business cards you can only upload one artwork for the order. However, if you order 2×250 business cards, the orders are separate and thus you can upload 2 different artworks.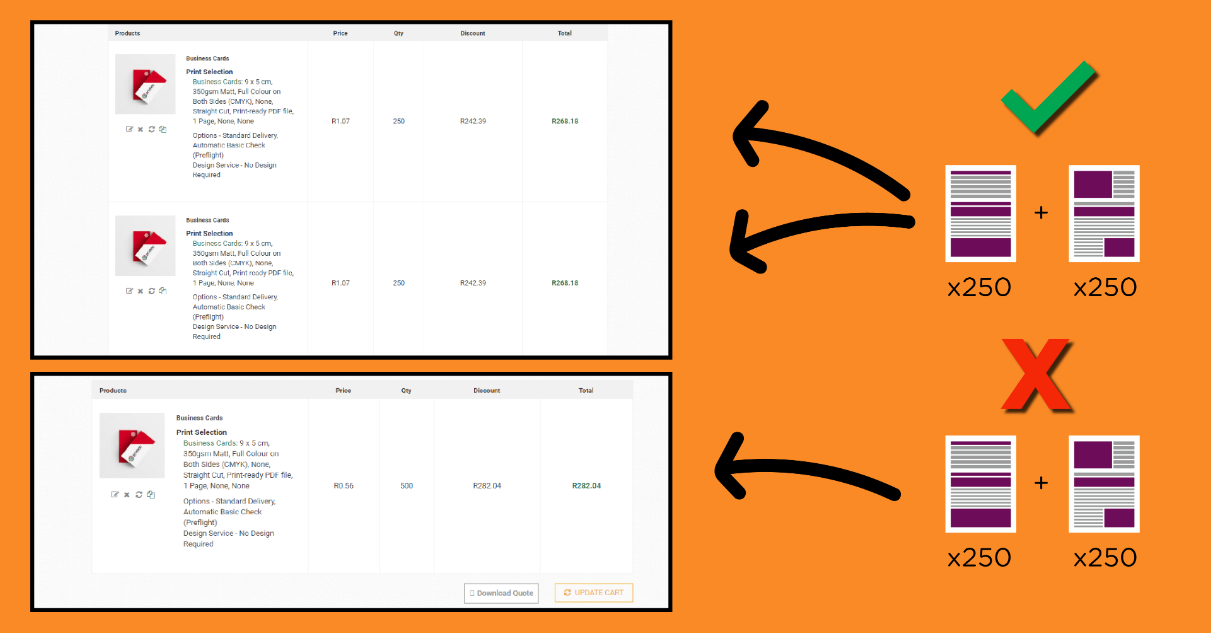 7. Can I add products to my cart and finish my order later?
Once you add your product(s) to your shopping cart, they will automatically be saved for 14 days in your Dashboard if you have an account with Printulu. (If you don't have an account, you can still order, but having an account makes life a LOT easier.) 
8. Can I cancel/change my order once I placed it successfully?
Remember, we send our newly received orders (only if successfully completed) into production once a day at 14:00 (2 pm) sharp. If you cancel your order before that time, you will receive a refund in the form of a Printulu voucher. Please contact our customer service if you need to cancel/change your order before the deadline. Cancellations/order changes after that time can't be refunded as they have already gone into production!
9. How do I know my online order was successful?
We keep it plain and simple for you to keep track of your orders. Again, it's even easier once you have an account. Regardless, once we received your online order, we will automatically send you a confirmation e-mail.

10. I have a problem with my order! Help?
Our customer service takes care of you and will answer all questions ranging from our website to technical and quality-related issues. Feel free to call or chat with us about your questions. That's what we're here for!
11. My order got cancelled right in the middle of placing it… Eskom. What should I do now?
Firstly, please check whether you received a confirmation e-mail for your order from us (see above). If not, you can access your order in the "My Orders" section of the website in your Dashboard (another reason to register a free account). Otherwise, try it again or contact our customer support. We'll be happy to assist you in any way we can. After all… Eskom gets to us all.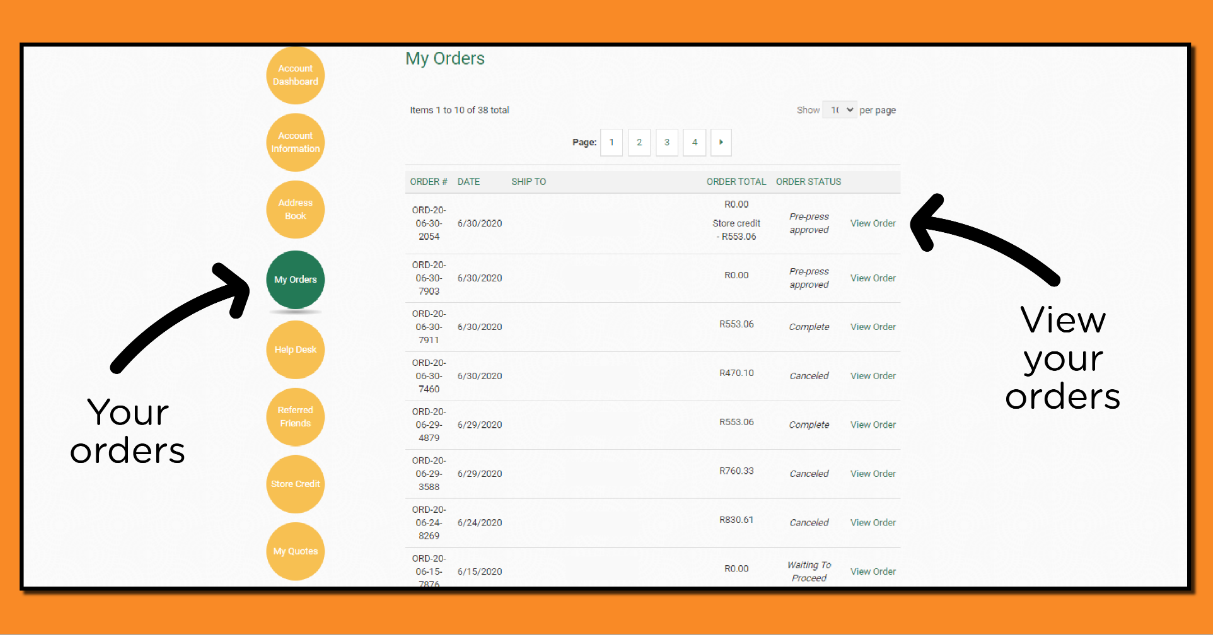 12. What is my Order Number, and where can I find it?
Your order ID is a unique number linked to your personal order. You can use it for any inquiries. We use it to manage and track your order.
You can find your order ID in the confirmation e-mail of your order, as well as under the "My Orders" section in your dashboard. The order number always starts with "ORD-".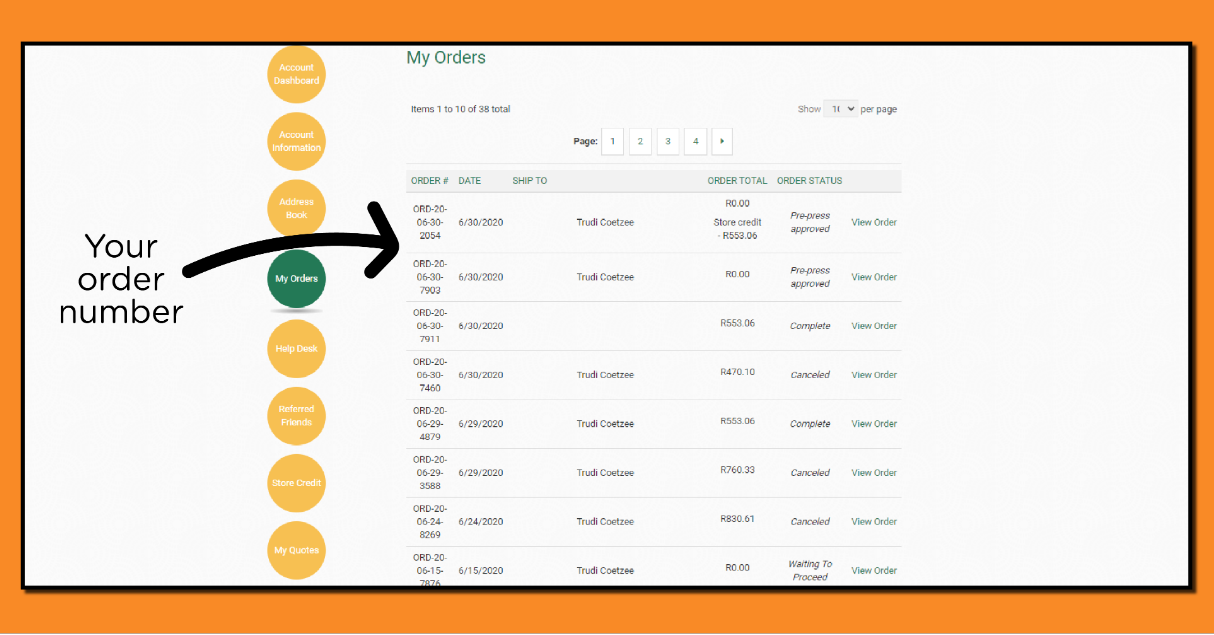 P.S. One last thing… (it's important!)
Do you feel ready to place your order? My biggest tip would be to subscribe to our PrintPress newsletter when you do. Our newsletter isn't just to send you updates on our pricing and process changes (all important to be aware of). We use the newsletter to send out BIG, HUGE, CRAZY deals that we don't post anywhere else. You benefit far more and will save much more in the long run if you take advantage of everything we have to offer. Over 2000 successful business owners have subscribed already! Don't want to miss out? Subscribe here.
By the way, these are just a few of many questions we get a lot. I'll be answering more of them in the next few blog posts, so stay tuned.
Did this answer your questions? Leave us a comment down below to let us know what you think!
You might also like…