It's that time of the year again! And by that, I mean calendar season. If you've been keeping an eye on our Facebook page, you'll know that we have been posting live video tutorials answering all your most asked questions. I let slip that calendar season is one of the most hectic times for a graphic designer in the printing industry.
Psst –  You should be keeping track of our Facebook page – we have tons of exciting updates and offers coming soon. Go check it out! @Printulu 
It's not just for how much longer they take to design than your average business card. If only! The biggest reason is because of the 2 options we offer when you print your calendars. Depending on the option you choose, you could print your Deskpad Calendar at a much more affordable rate if you get the design just right.
If you have NO idea what I'm talking about, that's cool. This definitely isn't something everyone knows about or understands. I've met designers that claim to be professionals in print that don't know about this trick. Even though it can literally save you THOUSANDS of Rands!
So here it is. The life hack to end all life hacks.
Black plate changes VS full colour changes.
Here's a quick video explaining the difference between Full Colour Plate Changes and Black Plate Changes.
There are two main types of printing that we use at Printulu. That is digital printing and litho or offset printing.
What's the difference?
It basically comes down to which type of printing is better suited to certain projects. We use offset printing for Deskpad Calendars for three main reasons.
You can count on offset printing for clean, distinct type and images without streaks or spots.

It offers better colour fidelity, which refers to both the accuracy of the colors and their balance in the design. Because offset printing can mix custom color inks for each job, it's naturally going to get the colors spot-on. Digital has a higher chance of slight colour variation occurring in large print runs.

For large volume jobs,  you'll actually spend less on offset than a digital print, which costs about the same per piece, no matter how big the job gets.
For a more in depth article on the machines we use, check out this post: What Kind Of Printing Company Doesn't Have A Normal Printer?! (Revealed)
How does offset printing work and how can I use it to save money?
When printing with offset printers, 4 plates are used to create your artwork. These plates each have a separate colour on them. These four colours are Cyan, Magenta, Yellow, Black (hence the term CMYK). For more info on the colour spaces you should be designing in to optimise your prints perfectly, check out this article: RGB VS CMYK – What's The Difference? (Explained)
 For each page of your artwork, new plates need to be custom made just for you. It's really cool, and yes, you should feel special. But this also has cost implications.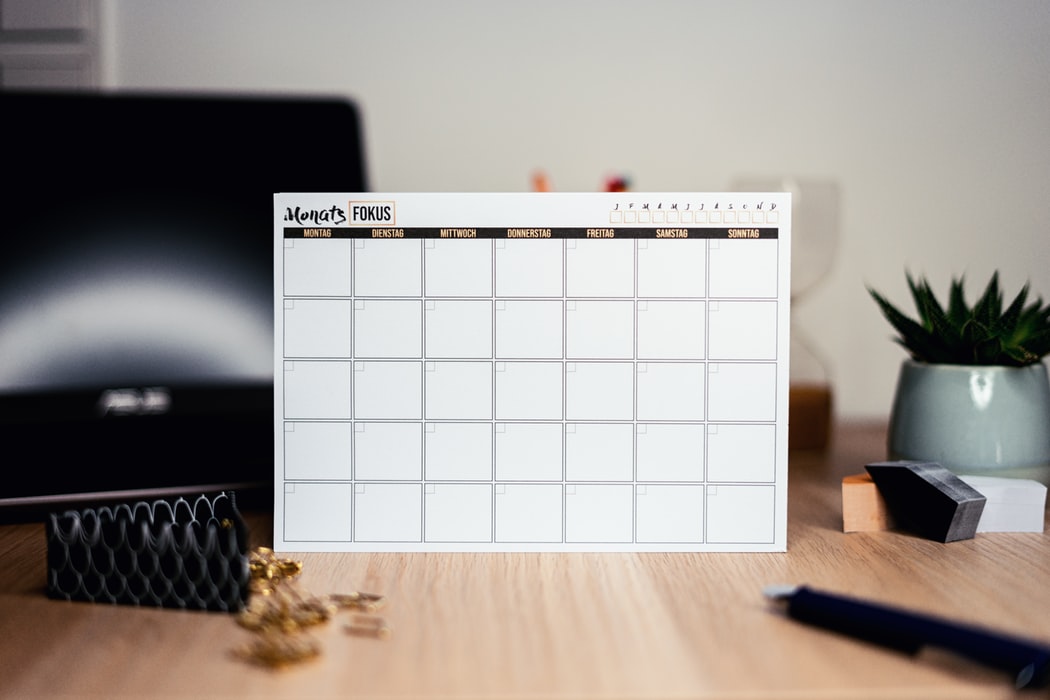 This is where the trick comes in.
Write this one down – you're going to want to remember this.
 If only the black elements on your design change from page to page, only new black plates will need to be created for each page. This is known as a black only plate change – and we offer this option on our website when you order deskpad calendars with us. 
If all elements (black and colour) change from page to page, the 4 new plates will have to be created for each page of your product, because the design changes for each colour. And ultimately, this obviously works out way more expensively for you. (This is known as a full colour plate change.)
How should you design this?
Every element that changes from page to page needs to be 100% black (C=0%, M=0%, Y% K=100%). This usually includes your dates, month names, public holidays, etc. 
Here's a quick rundown:
https://www.facebook.com/539918042824850/videos/640840700197677/
All dates should be in 100% black (K values only) and set to overprint if there are images behind the dates (such as a watermark).

The month names should be in 100% black (K values only) and set to overprint as well.

All public Holidays (if they do appear in the calendar date boxes) should also be in black (K values only) and set to overprint.

On a black plate change the full colour and the black should always align. Do this by creating one design and then duplicating that (Ctrkl + F for Illustrator) on the other pages. This ensures that everything is in exactly the same position on each page.
It's not as complicated as it sounds, and if you get stuck, we're always a phone call away at 010 593 0558. You can also drop us an "I NEED HELP!" email at support@printulu.co.za. Our customer care agents are well versed in all things calendars (and so much more). 
I'm also always on hand to take a look at your artwork and give advice where needed. Remember, if this all sounds way too complicated to even try doing yourself, we offer top knotch design services too. So next time you find yourself Googling "2020 calendar printing Johannesburg", remember this hack, and remember to give Printulu a try!
Resources:
You might also like…