Unbeatable Flags & Banners
Banners: Your Full Guide To Large Format Advertising
A quick guide from an online printer to make sure you're buying the right product for what you need, and save money in the process.
I always order all my printing stuff with Printlulu and have never had issues. My orders are always earlier, color is the same as per my pc and the customer service is excellent.
Chris D.
I bought a Pull Up Banner from Printulu and the customer service was excellent as well as the overall printing and quality of the banner. I would definitely recommend them.
Angela T.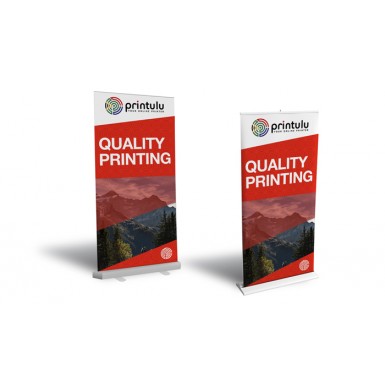 Pull-up Banners
Pull up banners are an extremely useful large format marketing tool. They can be used for businesses of any size. A pull up banner is the perfect high impact portable branding solution for a variety of situations. This includes trade shows, exhibitions, presentations, conferences, retail displays and more.
The Printulu pull-up banner is multi-purpose and conveys your brand message clearly at a low cost. Iit is dismantled and packed away with ease. Our pull up banner is the best South African banner you will find.
X-Banners
The X-banner is a simple, easy to use, light and economical banner. It is ideal for advertising your brand indoors and can be easily placed at retail centres and conventions. Our x-banners are printed on PVC and they are available in various sizes. They are folded and supplied in a carry bag for your convenience.
Each corner of the high resolution long-life print has an eyelet which assists with easy, fast assembly. An x-frame banner is also known as a spider banner and is printed on high quality PVC.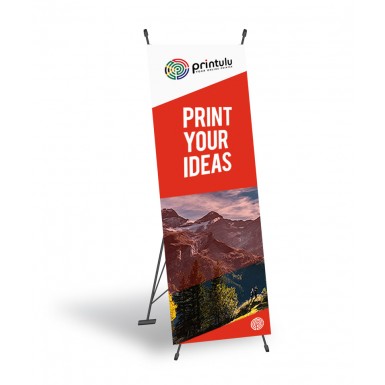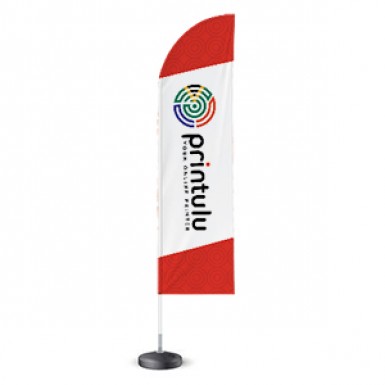 Wind Cheater Banners
Wind Cheater Banners are the ideal advertising tool for the outdoors. Printulu Wind Cheater Banners have a unique shape that ensures your brand is visible from multiple angles.
These banners are available in three different heights, namely 2m, 3m and 4m. The banner comes with a lightweight aluminium or fibre glass frame and spike. This all folds neatly into the handy carry bag that we supply with your printed banner!
PVC Banners
Put your company name and details out there in a bigger format with Printulu's PVC Banners. PVC banners allow you to advertise your company or event both indoors and outdoors.
Printulu offers affordable pvc banner printing with eyelets (a small hole for a lace or cord to be passed through or for a hook to be inserted into) attached. This means the pvc banners can be hung up anywhere, ideal for windy conditions, so that your clients notice your marketing message everywhere.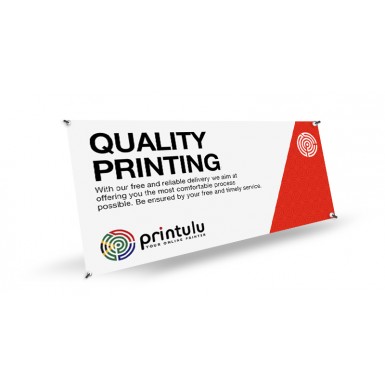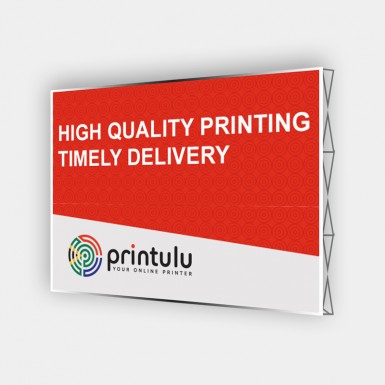 Wall Banners
Ensure that your brand stands out at the next event and order your wall banner with Printulu! With a specialist in-house design team with a skilled printing department we are able to produce a final product that suits your needs and will attract potential customers.
Wall banners or backdrops are one of the most convenient and professional looking pieces of marketing equipment that you can buy. Wall banners are the perfect tool to make sure your brand is in the limelight at special occasions, photo shoots, conferences and promotional events.
Telescopic Banners
Telescopic Banners also known as feather flags are very popular for any sort of outdoor event that you can think of, telescopic banners are ideal for making a visual impact when advertising your brand.
They are highly attractive and visible and therefore are often the preferred branding of choice for events and outdoor advertising. Our Telescopic banners are lightweight, portable, durable and cost-effective, with the pole on the left side of the banner holding it steady.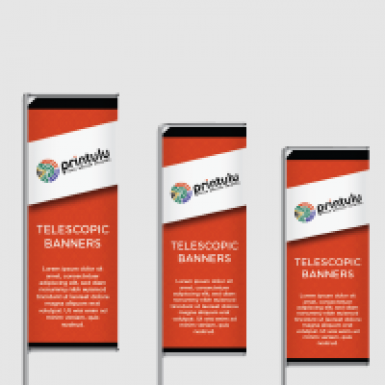 Still not sure? Read more about our banners and what's best for you here:
Subscribe and listen to the full podcast here: https://bit.ly/2Low52E It's been roughly 2 months now since the emergence of the Coronavirus turned all of our lives upside down. I believe that as South Africans, we are quite resilient. After all, we've had our...
You're able to come up with innovative new solutions for the market. You wouldn't be an entrepreneur if you couldn't. But can you commercialize your ideas and make them sell? Do you find yourself Googling "how to sell a product" on a daily basis? You're not alone....