You have questions. Printulu is an online printing company, and without the ability to walk into our store and see first hand what we do, it's only natural.
If you follow us on Facebook (P.S. – you should, we have awesome free tutorials on our page. Want to know how to design a business card in under 10 minutes?) you know that we have been answering your frequently asked questions every few days in quick live videos.
But you're a busy person, and maybe you haven't had a chance to check them out. Which is why  I thought I'd compile our FAQs in a few easy blog posts for you to go through in your own time. Here are your 6 top printing question about our Products & Services – answered!
Which products do we offer?
Printulu offers a wide variety of products. No really, our product portfolio is just getting bigger and bigger. We offer standard printed materials that you would expect from any printer, such a s business cards and flyers, but we also offer so much more. 
Our goal is to be your one-stop shop – you don't need to visit a banners shop to buy your banners, for example. We have that too! We're also constantly striving to keep our products up to date and source the best materials available. That's why we have the best production partners and keep you updated on any pricing changes there may be in our Newsletter (subscribe here for more). 
We have now even added a large range of Covid products. Check it out on the website here or take a look at the video below where Trudi & Thabang take you through the latest Covid products.
P.S. We have now started adding category specific pages with all your questions addressed! Check them out:
What papers and ink are used for the printing?
Just as our product portfolio is wide, the amount of different configuration combinations for each product that we offer is endless. Take a look at our product pages to see which configurations are available for each product. 
If you want to see and feel the materials before you print, you can order our paper sample booklet for free – you only pay shipping. This is a great way to get an idea of what your prints will look like before placing a huge order. If you're a reseller, not to worry. We offer an unbranded version too.
Which refinements do we offer?
Some printers offer lamination – great. But we didn't stop there. Here's a quick guide to all the refinements we offer and what they are best suited for.
Lamination
Finishing
Die-cut

Round cut

Straight cut
What's the difference between flyers, leaflets and brochures?
Check out this handy video wherein Thabang & Trudi explain the difference between these products. 
How can I know what is the best product configuration for my design/art work?
While configuring your product, you will be provided with tips and explanations where necessary. You can access these tips and explanations by clicking information icon next to the options.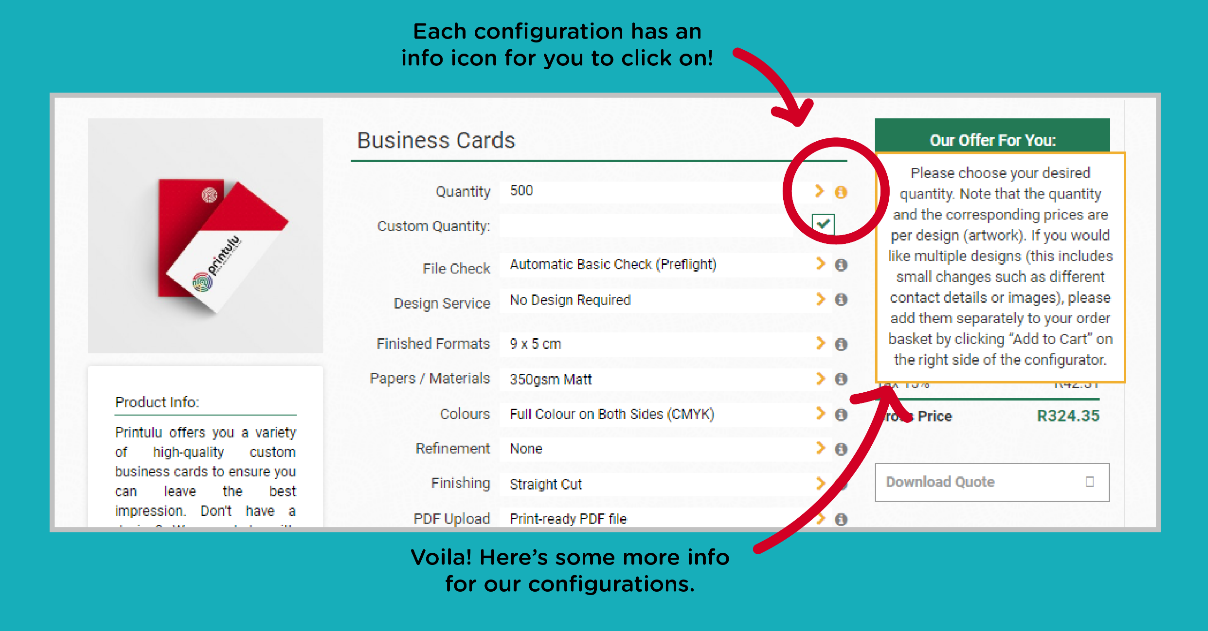 Please check out the information section of the product as well, wherein we give handy design tips and a little more information on the materials we use. 
If you have questions before placing your order, send us an email at support@printulu.co.za or give us a call at 010 593 0558.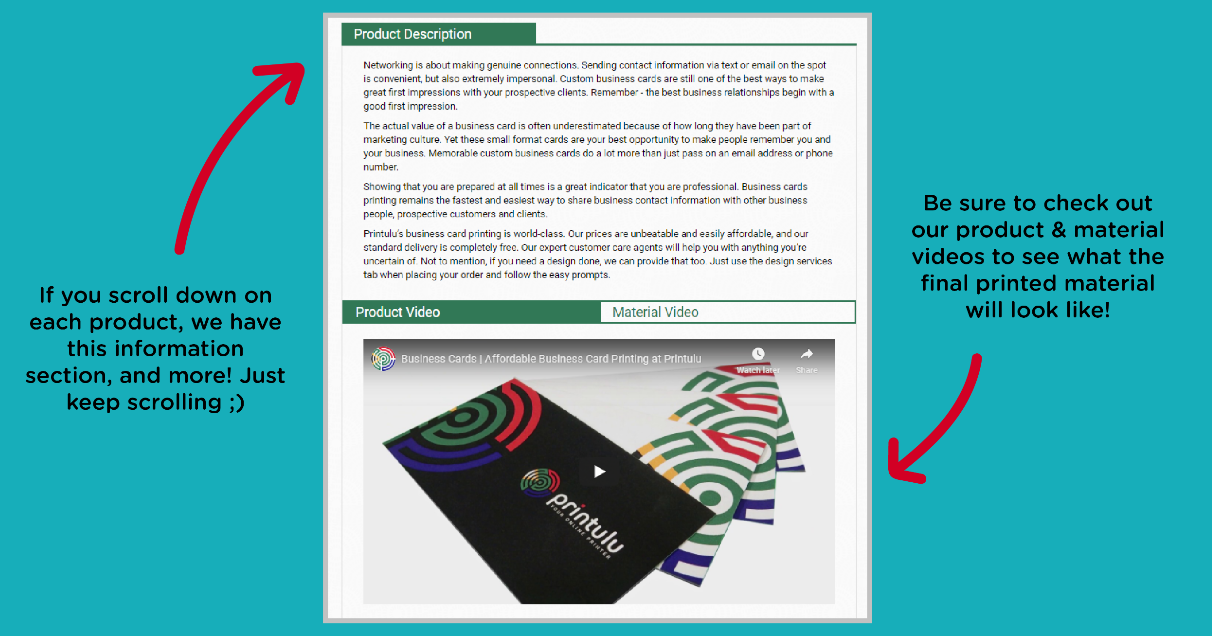 Where can I give feedback to Printulu?
We're glad you asked! You will receive a follow-up e-mail from us a few days after your order has been delivered. We will ask you for a rating and recommendations. 
Here are a few quick links to our favourite channels for reviews – feel free to leave one for us so we know how you feel. We would highly appreciate your time to tell us what you liked and what we can do better next time. 
You might also like…
Your 12 Most Asked Online Print Ordering Questions Answered (What If I Found A Mistake On My Artwork??)
P.S – we send out amazing offers and industry tips and hacks, as well as important updates and pricing for you to know in our newsletter – subscribe now and join over 2000 successful business owners in the Printulu Family!